Newsletter No.11, Friday 24 November 2023
Message from the Principals
As we find ourselves past the midpoint of Term 4, it's both gratifying and inspiring to witness the remarkable achievements and growth that have unfolded within our school community. Our students continue to demonstrate Resilience, Aspiration, Growth and Courage, showcasing the values that make Hobart City High School such a great place to learn.
Academic growth and achievement remain at the forefront of our work, and I commend both students and teachers for their unwavering commitment to learning both in the classroom and through extra curricula activities. As we navigate the challenges presented by the curriculum, it's heartening to witness the intellectual curiosity and passion for knowledge that our students bring to each class.
Beyond the classroom, our extracurricular activities have flourished, providing students with opportunities to explore their interests and talents. Whether it's in STEM, arts, sports, or community service, the enthusiasm and spirit displayed by our students is a testament to their multifaceted capabilities. These experiences contribute significantly to their personal development and growth.
To students competing this weekend in the Tasmanian Solar Challenge and the Southern Schools Basketball Championships, we wish them all the best. Next week we have six students representing the state at the Australian Schools Teams Chess Championships in Adelaide and we wish them well.
We continue to work hard to foster a culture where every individual feels valued, heard, and empowered to reach their full potential. Through our School Improvement Plan this year we have been working to improve our school belong and a positive sense of culture. I am delighted to share we have met both our improvement targets.
As previously communicated to families, it is with great sadness we share the recent death of our teacher, Latika Benjamin after a long battle with Cancer. Latika was a member of the maths and science team at Ogilvie since 2019, and a member of the Ogilvie community long before that, being a long-standing relief teacher prior to becoming a permanent member of staff. Latika continued in a teaching role on the Ogilvie Campus until the end of last year. Her ability to form relationships with students and her gentle and kind nature was a highlight of her teaching practice. We are deeply saddened by her passing. Our thoughts are with Latika's family.
As we continue into the second half of Term 4, let's carry forward the momentum of our accomplishments. The next four weeks hold more opportunities for learning, collaboration, and celebration. I express my deepest gratitude to everyone in the Hobart City High School community for their dedication and hard work. We encourage all students to continue displaying our school values on a daily basis and earning VIP points to ensure students get to participate in the amazing activities planned and have a really strong end to the year.
Britany Roestenburg - Lead Principal
Holly Stewart - Principal - Senior School
Andrew Hughes - Principal - Middle School
From Your School Association
Grants and donations
The School Association has run its first ever grant round for student-led projects and we are very pleased to support Ewan's application for planting on the New Town Campus. We are also excited to contribute to the chess team's travel to Adelaide so they can represent Tasmania at the 2023 Australian Schools Chess Team Championships in December. Go team! At the final year assemblies of our feeder primary schools we will now be providing a bursary for a Year 6 student who is going to HCHS in 2024 – the HCHS Positive Role Model Award.
Proper funding for our school
We have written to the Minister for Education in support of the Australian Education Union's campaign for school funding. Public schools across the country are under-funded by around $2000 per student. We told the Minister that with this funding HCHS could offer smaller class sizes and allow for a greater level of classroom support in areas such as literacy and numeracy. We think our principals, teachers and staff do an outstanding job in a challenging environment, and it's vital they have the resources they need to support our kids.
Welcome Families Picnic – save the date
We'll be welcoming families again next year at our picnic on Wednesday 28 February 2024, 3:30 – 5:00 pm on the Ogilvie Campus front oval. All families are invited to bring a plate of food to share and to meet your child's teachers and other parents. More information to come in Term 1.
AGM 2024
While we're saving dates please put this one in your calendar – the School Association Annual General Meeting will be held on Tuesday 5 March 5:30 pm at the Ogilvie Campus board room. Being on the School Association committee is a great way to find out what is going on at the school and to share your feedback and ideas. We are keen to keep building our school community and would love you to be part of it. Email us to get a nomination form hchs.association@decyp.tas.gov.au.
Last meeting for 2023
Our final meeting for the year will be on Tuesday 5 December, 5:30 – 6:30 pm at the Moonah Hotel (beer garden). It will be followed by our informal end of year celebration 6:30 – 7:30 pm. If you are interested in being part of the School Association next year and would like to have a chat with us, you are welcome to come along for snacks and drinks at 6:30 pm. Please RSVP to hchs.association@decyp.tas.gov.au.
Melinda Maddock - Chair
Attendance
To help assist us keep your students attendance please note the following:
A full school day is from 9:00 am (present in class) to 3:00 pm. To enable your student to be in class on time we have staff here to provide duty of care from 8:30 am, which allows enough time to prepare for being present on time to the first class, which is Home Group. Please note that Home Group is part of the scheduled school day and it is important that all students are present. Teachers are on duty at the end of the day until 3:30 pm
Part days missed, including Home Groups, all add up to important school being missed, for example if your student misses Home Group each day for 4 weeks, that is the same time as a full school day.
As a result, we ask that where possible all appointments are scheduled outside school hours.
If your student is not able to attend at any time, please contact the school on 6228 8800 or please respond to any text messages received around non-attendance via return text on 0417 968 541.
Please feel free to contact the school if there are concerns around your student's attendance so we are able to assist however we can to ensure that they are at school.
Tell Someone
All children in Tasmania have a right to be known, safe, well and learning. We are highly committed to the safety of all students at our school.
Earlier this month, DECYP launched the Tell Someone initiative, to raise awareness in the community about child sexual abuse and grooming.
The Tell Someone website gives children and young people clear advice on what to do in situations where they feel worried, unsafe or unsure. It also gives adults advice and support on how to respond if they suspect or know a child is being groomed or sexually abused or is at risk of harm.
Please visit the website, read the information, and try to find a suitable time to talk with your child/children about this issue and the resources available. It's important that everyone understands the possible signs of sexual abuse or grooming behaviour, and how to stay safe online and offline.
If reading this information has caused you distress, please visit DECYP's website for a list of support services.
Please contact the school if you have any questions about this information.
Orientation Day
We look forward to welcoming our 2024 Year 7 students to their Orientation Day on Wednesday 29 November. Please note that this day is for our confirmed enrolments for 2024 and families have been sent further details. If your child is a confirmed enrolment for Year 7 in 2024 and you have not received further information, or you have further questions about enrolment, please contact our office number: 62288 800.
Arts Showcase
Some of the many highlights of the Arts Showcase which was held earlier this month.
Outdoor Education Camp -Freycinet National Park
The Outdoor Education class set off to Freycinet National Park earlier this month under amazing blue skies. After a short stop at Swansea, they headed to Honeymoon Bay to set up camp. The afternoon was spent kayaking and swimming in the turquoise waters under the Hazards. The next morning they completed the Hazards Circuit walk, taking in Hazards Beach, Wine Glass Bay and the 1000+ stairs over the saddle! Students were rewarded with a swim and ice cream at the end of the walk. Students had a fantastic time with near perfect weather.
Year 7 Science Excursions to Bonorong Park
All Year 7 classes participated in activities at Bonorong Park last week related to their Science unit on animal classification.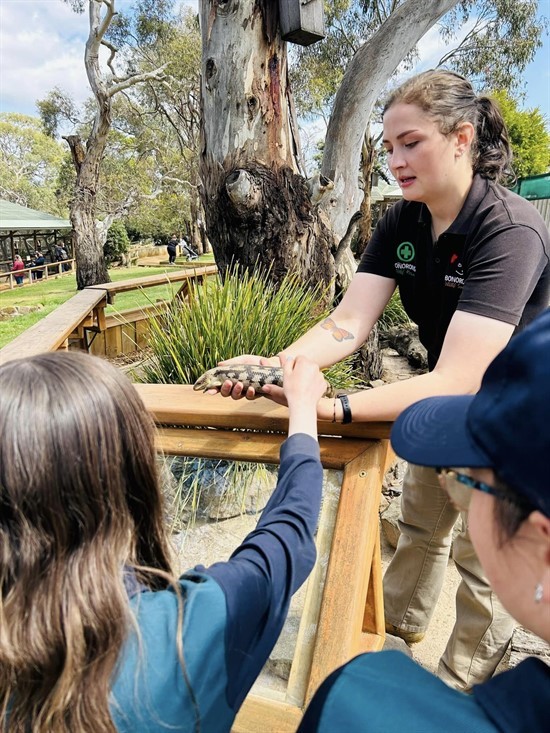 Middle School Band Performance
Our Middle School Band performed with New Town Primary students at the New Town Primary School Fair on Friday 10 November. It was a wonderful atmosphere with great community spirit. Well done to all in the warm conditions too.
Rotary Club Support for our Solar Challenge Team
Big thanks to the Rotary Club for supporting the Solar Challenge Team. Also thanks to students An and Annabel, who delivered a presentation at a Rotary Club meeting to secure their support.
Our Solar Challenge Team have been building cars and boats since mid Term 3. These will be raced at the Tasmanian Solar Challenge to be held at Clarence High School this weekend.
Orion Hedges - Solar Challenge Facilitator
Beach Volleyball Cup
On Wednesday 8 and Thursday 9 November teams competed in the Beach Volleyball Cup at Kingston Beach. Our 7/8 Div 2 Boys team finished second. Congratualtions to all students who particpated.
Year 8 Excursions to the Tasman Peninsula
Students from Year 8 attended excursions to the Tasman Peninsula at the beginning of the month. This was a part of the Year 8 Geography learning program and a unit currently being undertaken on landscapes and landforms. They visited the Tessellated Pavement, Tasman Arch and Devil's Kitchen.
2024 Student Bus Fare Increase
The full student fare will increase by 10 cents on 1 January 2024.
If you use cash for a single trip ticket, the new fare will be $2.00.
If you use a smartcard or purchase a 10-trip ticket, the new fare will be $1.60.
Smartcards like Greencard and Transportme can be topped up online. You can buy a 10-trip ticket for
$16.00 from the bus driver. It costs the same on every trip – it doesn't matter how far, where, or when you go. Bus routes that travel only in a rural area, to the local school, don't charge a fare.
Some students can travel or transfer between buses for free. You may be eligible for a Student Bus Pass
for Free Travel if you are:
• listed on a Health Care or Pensioner Card
• travel wholly within the rural area where there is only a fare charging service
• must use more than one bus between home and school and/or school and home
• are under a Care and Protection Order.
The student fare last increased in 2022. This fare increase is set by government policy.
For more information talk to your bus driver, visit www.transport.tas.gov.au/student or call 6166 3343
(9:00 am to 5:00 pm weekdays).

School Locker - Music Sale
School Locker is the destination for all your music needs from amps, PA and speakers, pianos and keys, guitars, drums, orchestral instruments, and more.
Currently there is a Music Mayhem Sale with 30% OFF category wide.
To take advantage of this sale you can either visit our Cambridge Superstore OR jump online – www.theschoollocker.com.au/departments/music
Please note:
Free shipping on all online orders over $150.00
Music Mayhem Sale ends 24 December 2023
Resilience in Our Teens for Parents
Resilience In Our Teens™ is a child development course that aims to support you and your teen through the ups and downs of life. It is what we call a 'parent-led' approach, meaning that you take on the role of the coach in your teen's life, and are able to guide them through emotionally distressing episodes. Designed and developed by psychologist, author and teacher Michael Hawton, it equips you with a practical and easy set of tools, and a solid understanding of the theory behind these to enable you to build resilience in your child.
Live webinar series - 8, 15 and 22 February 2024.
Register here - https://www.parentshop.com.au/parents/resilence-in-our-teens-parents
Presenter: Ruby Otero Parentshop Consultant
Ruby Otero, CSM, is a registered psychologist with a unique blend of experience in mental health, rehabilitation and injury management, learning and development and organisational psychology. Ruby has worked in a diverse range of government and corporate sectors including aviation, defence, consulting and health. During her service in the Australian Army, Ruby's work was recognised on the 2013 Australia Day Honours List and awarded the Australian Conspicuous Service Medal for commitment and devotion to duty in soldier rehabilitation, welfare and wellbeing. Ruby established her private practice in the Sutherland Shire providing psychology consultations for individuals working through lifes many challenges or wanting to develop strategies to thrive and fulfill life goals.
What's on at Youth Arc
Re Threads
Re Threads is a FREE City of Hobart Youth ARC program.
Youth ARC have set up a creative corner with a range of second-hand clothing available to young people that are interested in making unique and personal garments during open access hours.
Youth ARC has a dedicated art studio accessible to all 12-25 year olds and open 3:00-6:00 pm Tuesday to Friday , which is perfect for textile-based projects.
Youth ARC provides all the materials and equipment needed to create a unique garment, including sewing machines, fabrics, paints and other textile resources.
Our friendly and experienced staff will be on hand to support and guide participants throughout the workshops, ensuring that everyone feels confident and comfortable throughout the process.
We will be running a series of Re Threads workshops to accompany this program.
Link for bookings - Youth Arts and Recreation Centre | Humanitix -
Youth ARC Catering Club
Youth ARC Catering Club is a cooking club for 12-16 year olds.
A cooking club where they can meet on a casual basis to cook food for all open access attendees on a Friday.
This is a great chance for young people to make new connections and learn kitchen skills.
No bookings necessary just meet in the kitchen at 4:00 pm on Fridays.
EPOCH - Showing in December
A series of responses by young local artists to the theme of Epoch
Join us for the official launch of our new Art on Victoria series: Epoch.
Art on Victoria Launch
Date: Thursday 7 December, 1:00-1:30 pm
Location: 137 Collins Street, Hobart
Upcoming YARC Gallery Opening
Please join us for the YARC Gallery 2023 Group Exhibition Opening Event
Date: Thursday 7 December, 5:30 – 6:30 pm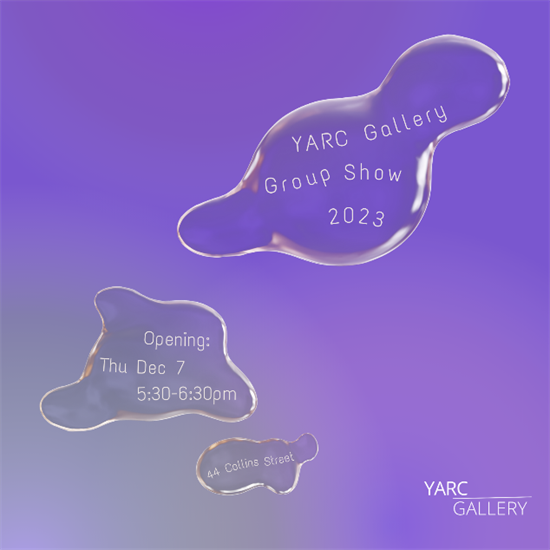 Important Dates
25 - 26 November - Southern Tasmanian High School Basketball Champs - Kingborough Sports Centre
27 November - Cultural Connections Group Meeting - Lower Student Centre, OC - 3:00 - 7:00 pm
28 November - Golf Excursion - Big Swing Driving Range - 10:50 am - 1:15 pm
29 November - Year 7 2024 Orientation Day - OC
29 November - Year 8 Activity Day - The Lea - 9:00 am - 3:00 pm
29 November - Big Picture Family Information Evening for Year 8 students - H Block - 5:30 - 6:30 pm
29 November - 1 December - Outdoor Education Camp (Freycinet National Park)
30 November - Triathlon - Bellerive Beach - 9:00 am - 3:00 pm
1 - 3 December - Australian Schools Teams Chess Championships Tour - Adelaide
1 December - Big Picture End of Year Dinner - Maypole Hotel
1 December - Golf Excursion - Big Swing Driving Range - 10:50 am - 1:15 pm
1 December- Futsal Roster - 4:30 - 8:30 pm (various venues)
4 December - Year 9 Excursion - The Lea - 9:00 am - 3:00 pm
4 December - Year 9 Big Picture Tour - NTC - 12:00 - 2:00 pm
4 - 8 December - Year 10- ConnECt (Elizabeth College Orientation)
6 December - Salvation Army, Beyond the Classroom-Salvation Army, Derwent Park- 11:00 am - 1:00 pm
6 - 13 December - Big Picture Exhibitions - 9:00 am - 7:00 pm
8 December- Futsal Roster - 4:30 - 8:30 pm (various venues)
11 December - Big Picture 9L Beach Day - Long Beach, Sandy Bay
12 December - Threads Magazine Morning Tea and Launch - OC Hall - 10:00 am - 12:00 pm
13 December - Salvation Army, Beyond the Classroom-Salvation Army, Derwent Park-11:00 am - 1:00 pm
13 December - Awards Evening - NTC - 6:00 - 7:30pm
14 December - Big Picture End of Year Celebration - Rewind Cinema - 11:00 am - 2:00 pm
15 December - Year 10 Beach Day - Seven Mile Beach
15 December - Year 9 Beach Day - Orana, Roches Beach
15 December - Year 8 Beach Day - Kingston Beach
15 December - ABC Christmas Angels Recording - ABC Broadcast Centre
15 December- Futsal Roster - 4:30 - 8:30 pm (various venues)
18 December - Year 10 Activity Day - John Turnbull Park
18 December - Year 7 Beach Day - Kingston Beach
18 December - Year 10 Celebration Dinner - Wrest Point Casino - 6:00 - 9:30 pm
20 December - Year 10 Activities - NTC
20 December - Future Pathways Day - NTC
21 December - Year 10 BBQ Breakfast -NTC - 9:00 - 10:25 am
21 December - Year 10 Final Assembly - NTC - 10:55 - 12:30 pm
21 December - Big Picture End of Year Certificates and other activities-BP Town Hall-10:00 am - 2:00 pm
21 December - Last Day for Students
22 December - Last Day for Staff