Newsletter No.10, Friday 25 November 2022
Message from the Principals
Gifted and Highly Able courses available
We are currently providing students opportunities to enrol in DECYPs Gifted Online courses for 2023. We are keen to support as many of our students accessing courses as there are a limited number of places available. We will apply for students to access courses but will only have confirmation of successful enrolment early next year by DECYP. A waiting list will be created for any students who were not successful in the first round allowing for students to potentially access these courses.
The following courses are available: My Maths, Creative Writing, STEM: Earth to Space, Big History, Philosophy: Theories of Thought, and Tech Time. Pathways to Maths Methods is also offered by DECYP for Year 9 and 10 students, however as our students could select Introduction to Methods in Year 9 or Maths Methods 3 in Year 10 we will not be enrolling students in this Gifted Online course.
Students are being nominated through various means:
self-nomination as outlined in the school Daily Bulletin.

data analysis to identify top performing students who will be sent a letter of invitation.

teacher nomination via curriculum area leaders will also receive a letter of invitation.

Primary feeder school information currently being collected via our transition processes.
If you would like more information please contact Sarah Geale or Erika Boas on the email below. sarah.geale@decyp.tas.gov.au erika.boas@decyp.tas.gov.au
Year 10 End of Year Events
All families were sent an updated letter early this week outlining the end of year activities, dates, times and other relevant information via our SchoolZine app. Please contact the office if you did not receive this letter and another will be forwarded to you.
Year 6 Transition
We are looking forward to welcoming our new 2023 families for an Orientation Day on Wednesday 30 November. This is an exciting time for our school community as we prepare to make our school welcoming and inviting for all of our new families. We are working with our School Association to plan a 'Welcome Families Picnic' in week 4 (2023) where families will get to meet each other, their child's teachers and share a meal. Stay tuned for more information.
Year 8 and 9 Transition
Our Year 8 and 9 transition program will continue in the final few weeks of term. We hope to have students spend some time in their 2023 Home Groups which will be the group they are in for all their core classes (English, Humanities, Maths, Science and HPE). More information on this will be available shortly and sent out to families.
2023 Student Leadership
Next year we are really excited to expand our leadership opportunities for both middle school and senior school students.
Students have been able to nominate for up to 18 positions on each campus and the processes are currently well underway.
Once filled we will have a full contingent of Prefects and House Leaders to assist with transition, community events and fundraising with a total of 18 positions on each campus. We look forward to sharing the results with our community of this process before the end of the year.
School Uniforms
We are very much looking forward to the launch of our new school uniform in 2023. All students in Years 7 and 8 are expected to be in the new uniform. Students in Years 9 and 10 will be permitted to wear one of the following options
The old Ogilvie uniform or

The old New Town uniform or

The new HCHS uniform
Students will not be permitted to mix and match the uniforms. It should be noted that we have very limited stock left in the old uniforms.
Included in this newsletter is a copy of the price list, purchase information and a brochure with the styles and items that will be available. The items are not yet in stock but are expected to be available from the School Locker in Cambridge at the end of December. We will provide ongoing updates as we receive them.
Student Success Stories in the Australian Maths Trust Enrichment Programs
It is wonderful to recognise our amazing student success from their work over Terms 2 and 3 in the following categories
Euler:
Certificate of Distinction: Daniel O, An L
Certificate of Participation: Zachary G, Samuel B, Vaibhav P, Sean H, Khan H, Hamish G, Harvey P, Mahardika M, George A, Sanuka D, Aylah S, Alli S, Jessie J.
Gauss:
Certificate of Distinction: Mark L
Certificate of Credit: Ewan A
Certificate of Participation: Zachary S, Sebastian R, Bi N, Oscar B, Yusuf A, Joshua P, Abigail D, Oliver R
Noether:
Certificate of Credit: Franklin L, Stanley F, Kashyap B
Certificate of Participation: Felicity S, Kitty E, Ethan L, Matilda S, Maryam
If you would like to find out more about what our students are up to in this amazing opportunity, please click the link below.
Deb Day - Lead Principal
Holly Stewart - Principal, New Town Campus
Andrew Hughes - Principal, Ogilvie Campus
Uniform 2023
Survey for Families: Out of Area Enrolments
The Department for Education, Children and Young People (DECYP) is reviewing the procedure for out-of-area enrolments at Tasmanian Government schools. We are interested to learn more about your perspectives on the benefits of attending your local government school, and the reasons families seek enrolment at a school outside their local intake area. You are invited to have your say using the online survey below.
Deb Day - Lead Principal
From your School Association
Old Scholars
We welcomed special guests from New Town High School and Tech Old Scholars at our November meeting. We talked about the benefits of the alumni, for both old scholars and the school in creating a sense of history, community and connection. They are very generous in offering to be more involved in the school in areas like mentoring and events. We're working on an MOU between our two organisations and will put it into action next year. If you are an old scholar and would like to be involved, or if you have ideas for how we can work together please send us an email hchs.association@education.tas.gov.au.
Welcome Families Picnic 1 March 2023
The plans for the Welcome Families Picnic are coming along. Families of Year 7 and 8 students will be asked to bring a plate of food to share. You'll have the chance to meet your child's teachers and other parents on the Ogilvie Campus oval. Put it in your diary - 1 March 2023 from 3:30 pm. Let's hope it's a warm sunny afternoon! This event is part of our vision for 'a vibrant, diverse and inclusive school community that works with the school to enable our young people to flourish'.
Next Meeting
Our last meeting for the year is on Tuesday 13 December 2022, 5:30 pm – 7:00 pm in the Ogilvie Campus Boardroom. It's not too late to come along and meet Committee members, especially if you're thinking about joining next year. Just let us know by email. hchs.association@education.tas.gov.au.
Melinda Maddock - Chair
Big Picture News
Big Picture Expo
This Term, I took on the challenge of being the lead curator of the Big Picture Expo. In Term 2, I
worked with curators at the Tasmanian Museum and Art Gallery, I used those skills to have
a successful exhibition.
My first step was to set an expectation of what I wanted at the end of each week. I handed out
canvases to inspire people in the first week of Term 4. Then I made a worksheet for artists to fill
out about themselves and their art. I set a deadline for the artist statements a week before the
event so I would have time to type and print them.
Although a lot of statements were handed in last minute and I had lots of help from teachers to complete this. To avoid this next time, I will get the teachers to help make sure I can collect
the statements a week beforehand. Another thing I will do to improve future Expo's is give the artists more notice so that there will be more art to show.
Most of the curatorial work didn't happen until the day of the event. I couldn't plan out the
exhibition until I had all of the art so I could make it aesthetically pleasing. I wanted to keep artists
work together based on medium and artist. I laid out the art pieces on the floor below the area I
wanted them hung. This way I got to play around with the layout before committing to a final
design.
The final step in this process was to hang up the art with the statements. Thankfully I got lots of
help from the people around me. I was extremely proud of how the exhibition turned out and am
excited to see how it turns out next year.
The Big Picture artwork will be on display at the Glenorchy Library for the next couple of weeks for those who missed out.
Written by Violet, Big Picture student
The Government is hearing the need for a youth centre in Glenorchy!
My name is Aleira and I'm a Year 10 Big Picture student. I have been lobbying for a Youth Centre to be based in Glenorchy. I'm happy to report - I've finally been heard. From meetings with the honourable Mayor Bec Thomas, to meetings with Minister Jaensch and Minister Street the ball is finally rolling for a Youth Centre to move forward.
Written by Aleira, Big Picture student
Tasmanian Model Solar Challenge
On Saturday 19 November, twelve students from Hobart City High School took part in the 2022 Tasmanian Model Solar Challenge. This event involved designing and building model solar cars and boats to race against other schools from around Tasmania. Students were given a tight time frame and specific design specifications for their vehicles and needed to maintain a high level of motivation in order to complete them in time for race day.
Students entered three cars and one boat. The boat won first place and an award for best engineering. All three cars reached the top eight with the best performing coming fourth overall. The car that placed fourth also won the award for best crash and required significant running repairs over the course of the day. All students are to be commended on this excellent result, especially given that none of them had participated in this competition before. But perhaps even more impressive was the way in which students conducted themselves. They demonstrated the utmost respect for other competitors, their environment and the event organisers; were very willing to pitch in and help with whatever needed to be done; and were patient and perseverant in tackling all of the days events. They can all be very proud of what they achieved. Students involved were: Connor M, Arijan J, Ryan C, Stanley F, Naren R, Ewan A, Sebastian R, Kaden A, Franklin L, Sean H, Riley W, Harvey P.
Orion Hedges - Teacher, New Town Campus
End of Year Activities
Hobart City High School students and their families will be provided with permission letters over the next few days regarding End of Year Activities.
It is important that any necessary permission forms are returned to the Main Office by the due date in order for students to be permitted to attend these end of year events.
Please note 'Major Excursion' permission forms are a requirement for our School Beach Days.
Students, or family members, can drop signed forms into the Office at the student's main campus.
It would be wonderful to see all of our students celebrate the busy year together by attending the end of year activities.
Erika Boas - Assistant Principal, Teaching and Learning & Year 10 Support, Ogilvie Campus
Assessment and Reporting
With the end of year fast approaching, our students are working on major assessment tasks as part of their focused assessment weeks.
Student final reports will be going home to families in Week 9 (during the week starting 12 December). These paper reports will communicate a rating for Australian Curriculum subjects as well as a learning progression result for their specialised subjects.
The report will show your child's learning achievement on a 9-point visual scale which replaces A-E ratings used in previous years. The 9-point scale shows more specifically where your child's learning achievement is against the expected standard for their year level.
There will be no teacher comments on the report.
Whilst there are no dates and times set aside for formal parent-teacher interviews, teachers are always happy to communicate via email, phone or in person if families would find this beneficial.
For more information about the 9-point scale, please see:
Sarah Geale - Assistant Principal, Teaching and Learning, New Town Campus
Erika Boas - Assistant Principal, Teaching and Learning, Ogilvie Campus
Swimming Carnival Results
The Swimming Carnival results are in (a combination of points won at both the New Town and Ogilvie Campus carnivals):
Swimming results are:
1st place = patrula (8593 points)
2nd place = panupiri (8306 points)
3rd place = layna (7715 points)
4th place = tiyuratina (7482 points)
Congratulations to patrula! House Swimming champions for 2022.
Inter-high Swimming Carnival
On Thursday 17 November, a team of swimmers that was reduced in number, but high in charisma, boarded the bus to the Aquatic Centre. Led by our School Swimming Captains (Edward and Susannah), our first challenge was backfilling a few races. The courage shown by many students swimming in races above their age group cannot be commended highly enough. Especially our Year 7 girls (Sienna, Peyton, Aylah and Zoe) who competed in their own races and relay, and then most of the Year 8 races. Some strong performances in each age group had us sitting on the edge of our seats as we battled against Taroona, Clarence, Kingston and Rose Bay. At the end of the day, we finished in 3rd position, behind Taroona and Clarence.
Thank you to Ms Fitzgerald, Mr Dudgeon and Ms McDonald who made it possible for us to enter our first Hobart City High School team into the Inter-High Swimming meet.
Jess McDonald - Sports Coordinator, Ogilvie Campus
Arts Showcase
Early this month, we held our inaugural Hobart City High School Arts Showcase. Students presented their learning from the visual, literary and performing arts areas. The technologies areas were also showcased with materials and design projects on show and community members were able to sample food made by catering and foods studies students. Thanks again to all who attended and a thank you and congratulations to all staff and students involved in this highly successful event.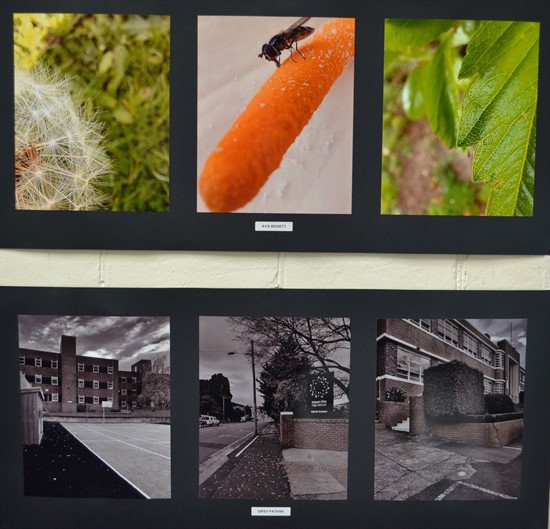 Prev
Showing images
1 - 8
of 10
Next
Debating Success
Congratulations to the Year 9 Debating Team, Daniel R, Franklin L, Kashyap B and Stanley F, who won their grand final earlier this month! This finished off a great year! Our team argued the affirmative for the topic: 'That we would prefer to be immortal'. A huge thanks to Mr King for his efforts and support throughout the season as our team coordinator.
Library News
Exciting news! All Tasmanian government school students can get the Sora app!
The Sora app allows you to choose from hundreds of eBooks, eAudiobooks, magazines, graphic novels and much more, for free onto any device, such as phones, laptops, and personal computers! The platform is the world's biggest for eBooks! Students can customise the app in settings to suit their needs, such as dyslexic font and language options.
This is a great way to explore the wonderful world of reading for pleasure.
Katie Thompson - Library Technician, Hobart City High School
Year 6 Orientation Day
Years 11/12 Intergrated Skills Pathway Graduation
Hobart City High School celebrated Alex's graduation from our Year 11 and 12 ISP (Integrated Skills Pathway) program. Alex followed a Project Based Learning model and was presented with his completion certificate. Alex is on track to receive his TCEA (Tasmanian Certificate of Educational Achievement) at the end of this calendar year. Congratulations Alex!
2022 School Magazine
Orders are now being taken for our inaugural edition of the Hobart City High School 2022 School Magazine.
We are offering families two options to purchase:
Printed copy $25 and Digital Copy $15
Please order through our Hobart City High School QKR app.
If you have not already downloaded QKR please click the link below on how to download the App.
How_to_Download_QKR_to_a_Smartphone_or_Tablet.pdf
Orders close on the Wednesday 30 November.
Upcoming Events
28 November - Jump Rope for Heart BBQ Fundraiser - OC
29-30 November - Elizabeth College Connect Days
29 November - Year 6 Additional Transition Day -OC
29 November - Old Scholars Meeting 5:00 pm - NTC
30 November - Year 6 Orientation Day - OC
30 November - Big Picture Orientation Day, for Year 9 2023 - OC
1 December - Schools Triathalon Challenge - Bellerive Beach
2 December - State Athletics Carnival
5-7 December - Year 9 Outdoor Education Camp, Ogilvie Campus - Maria Island
5-9 December - HCHS Musical Band (TBC)
7-9 December - Year 10 Big Picture Camp (TBC)
8 December - Schools Beach Volleyball Cup, Years 7 and 8 - Kingston Beach
9 December - Schools Beach Volleyball Cup, Years 9 and 10 - Kingston Beach
12 December - Year 7 Glenorchy Pool Day
13 December - School Association Meeting 5:30 pm - 7:00 pm - OC
14 December - Worlds Greatest Shave BBQ/Fundraiser - OC
15 December - Presentation Evening - Wrest Point Convention Centre - 6:00 pm
16 December - Years 8/9 Beach Day - Orana, Roches Beach - NTC
16 December - Year 10 Picnic/Beach Day - Kingston Beach (OC) - Seven Mile Beach (NTC)
19 December - Years 8/9 Beach Day - Kingston Beach - OC
19 December - Year 10 Celebration Dinner - Wrest Point Convention Centre - 6:00 pm for a 6:30 pm start
20 December - Year 7 Activity Day - Cornelian Bay
21 December - Year 10 Final Assemblies 10:45 am -both campuses
21 December - Last day for students